Electromagnetic Vibrating Feeders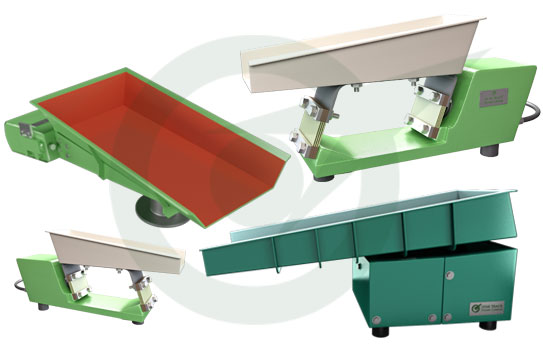 Electromagnetic Vibrating Feeders
The electromagnetic or vibratory feeder is one among the most prominent and mandatory equipments seen in almost all industries. In India we are the established manufacturers dealing with electro magnetic feeder for the past 25 years.
The Electromagnetic or vibratory feeders are designed capably to handle inputs that are wet, dry, moist, sticky, lumpy, course, granular, powdery and abrasive. Irrespective of the nature of feed put into electro magnetic feeder, output is stable and consistent at any given point of time. This accuracy and durability of electro magnetic or vibratory feeder has earned a name for itself in sale and has led us to be outstanding players globally.
The magnetic property of magnets has seen extensive use not only by vibrating or vibratory facilitation but in many similar deeds. But the science behind vibrating the vibratory feeder is an explicit one. Adding to the magnetic utilization is adjustability of vibration or vibratory feeder in accordance to supply of power.
Vibrating feeder is a great invention which explains the various ways of making magnetic possessions function. Magnetic application in non magnetic environment serves a wide range of manufacturing entities.
The other names by which the Electromagnetic feeder is referred are Electro Magnetic feeder, Vibrating Feeders and vibratory feeders. How ever they may be referred; their prominence is as Electromagnetic feeder. The electromagnetic feeder consists of vibro grizzly feeder and vibratory furnace charger which facilitate in the effective functioning. Before getting into the details of set up and working lets detail on vibratory or vibrating motions.
The electro magnetic pull initiates the vibratory or vibrating process making the particles that are cluttered to loosen. The abrasion between feeds caused by magnetic field induces vibrating or vibratory act as a result of which smoothening happens which is an advantage in disguise. Vibratory / vibrating feeders can be refilled with repetition to serve other purposes as well.
CONSTRUCTION OF ELECTROMAGNETIC FEEDER:
The tray of electromagnetic feeder is made from either mild steel or stainless. Heavy duty MS plates protect the body housing of vibrator. Pulse sets in as the magnetizing begins in Electromagnetic feeder. A controller is fitted in electro magnetic feeder to monitor the flow of material, perfect housing is also provided in the electromagnetic vibrating feeder to maintain it dust free. Fluctuations in power do not interfere with the working of Electromagnetic or vibrating or vibratory feeder.
Functioning of Vibratory Feeders:
The electrical pulse generated from the coil creates a sequence of magnetic pulls that attracts the armature and deck of the vibrating feeder. Each pull is opposed by restoring force of the bar which causes the frame to move away from the magnets. The deck and the frame work of the electro magnetic feeder bring in a vibrating speed of 3,600 /sec at the rate of 60 cycles per second electrical frequency.
The movement of load in the Electro magnetic feeder is brought about by 'jumps' that relate to the vibration. Adjustments brought about in the voltage of the coil will be reflected in increase or decrease of speed of substance travelling. So if one wants to escalate the electromagnetic force and reap faster vibrating or vibratory motion more current should be supplied now the vibratory or vibrating action adds & output is proportional. On the other hand electromagnetic operation will drop if electricity declines and the vibrating or vibratory motion of Electromagnetic feeder slow.
Now it is well understood how vibratory or vibrating deed will alter supply rate and the impact of magnetic activity can be manipulated in an Electro magnetic feeder.
A special mention of Hopper Feeders will enlighten you on managing the material that tangle or the ones that do not show the required travel when fed from a static hopper. The conventional method can be replaced to rule out hindrances in production as they store and discharge in a controlled and uniform manner desired for the production.
ADVANTAGES:
Easy & stepless variation of delivery of material either manually or automatically possible.
Delivery remains generally constant in spite of fluctuations in supply voltage.
Drive is extremely robust and simple in construction.
Electromagnetic drive is dustproof and is impervious to moisture.
Features Of Electromagnetic Vibrating Feeders
The following are the features of Electromagnetic Vibrating Feeders:
Exclusive vibrating technology
Small in size and light in weight
Simple structure, easy to install and use, low maintenance cost
High efficiency and feeding capacity
Good operational reliability and easy adjustment
Applications Of Electromagnetic Vibrating Feeders
Chemical - Conveying of fiber or scrap to destinations; either bag dump station or refining unit. In this industry the electro magnetic feeder or vibratory feeder serves its duty with magnetic intensity controlled by electro magnet.
Food- Movement for multiple ingredients from source to processing, blending, packing etc. The vibratory or vibrating course in the feeder separates every stuck item; achieving uniformity. Thus the magnetic effect gives way to regular packing.
Foundry- conveying sand to the step by step preparing units. Once fed by vibratory feeder or electro magnetic feeder on to the belt other machine activity with magnetic fields can be applied. Benefits of electro magnetic act are innumerable.
Concrete- Moving sand, gravel, cement to hoppers, mixing area and batching. As the sizes will be big breaking down due to electro magnetic or vibratory or vibrating feeder will not happen.
Automotive- dispatching parts to assembly area. As most of the elements are made of iron upon relieving from electro magnetic feeder or vibratory feeder action of other electro magnetic instruments can be applied which is beneficial. The magnetic property of either permanent or electro magnet is extensively useful.
As seen from above applications it is evident that sale of electro magnetic or vibrating or vibratory feeders is possible to all manufacturers and suppliers not only in India but globally. Having known the nuances of Electromagnetic feeder with the rich experience gathered over the years we will be able to provide the right Electro magnetic feeder according to your requirement and indulge in a sale with adequate information. We as suppliers from India have proved ourselves to compete globally and accelerate our sale as leading manufacturers & suppliers of Electromagnetic feeder.
Welcome
Star Trace Pvt. Ltd. is a prominent manufacturer and supplier of magnetic and vibratory equipments used in various industrial applications.
We export a wide galore of magnetic equipments such as Magnetic Chip Conveyor, Rare Earth Magnet, Suspension Electro Magnet, Drawer Magnet, Liquid Line Magnets, Metal Detector, Induced Roll Separator, Suspension Fork Lift Magnet, Magnetic Pulleys, Alnico Magnet, Barrel Magnet, and so on.


Electromagnetic Vibrating Feeders

Star Trace Vibrating Feeder are used in processing industries for handling all types of materials such as hot, damp, lump, dusty or abrasive for various function like flow of material from storage, proportioning and bending, packing, mixing, weighting, sprinkling, scalping, crushing, washing, drying, etc,.

electromagnetic vibrating feeders
electromagnetic vibrating feeders manufacturers
electromagnetic vibrating feeders suppliers
how does a electromagnetic vibrating feeders work
electromagnetic vibrating feeders sale
electromagnetic vibrating feeders china
electromagnetic vibrating feeders manufacturers india
electromagnetic vibrating feeders capacity
electromagnetic vibrating feeders design
electromagnetic vibrating feeders wiki
electromagnetic vibrating feeders globally
about electromagnetic vibrating feeders